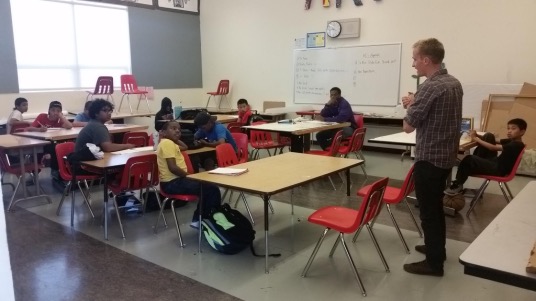 The AthLife Foundation is proud to introduce the first two middle school programs partnered with our industry leading national platform: Martin Luther King Jr. Academic Middle School and Willie Brown Middle School of the San Francisco Unified School District. Both schools exhibit outstanding support for their student athletes through the creation of critical Academic Athletic Support Staff positions.  These caring adult mentors develop high impact programming that use the often untapped educational platform of sport to affect change.
It is exciting to expand our efforts to these two middle schools, as both are feeder schools to Phillip A. and Sala Burton High School's PUMA Academy, currently in it's third year of partnership with the AthLife Foundation.
This was made possible because of the tremendous vision of the YMCA Bayview Beacon Program and the AthLife Foundation's Bay Area Board Members. Peter Wagner, an Academic Support Specialist, and Prasant Nukalapati, the Beacon Center Director, have been major catalysts to getting the programs up and running.
Official name: Student-Athlete Academy (S-AA)
Key Components: The Bayview Beacon's Student-Athlete Academy is an after school program that is open to student athletes who are driven to succeed in the classroom. This year-round program supports each student by providing them with academic support, leadership skills, and motivation to build the community that surrounds them. The program offers an environment conducive for individuals to complete classwork but also provide additional help, such as tutors. Academy participants are also giving studying techniques that enable them to recognize their full potential as student athletes.
What helps make it successful?: One aspect of S-AA that differentiates it from other programs is the fact that students are able to maintain strong relationships with their athletic coaches. When the athletic coaches expect students to actively engage in the program with the help of specialized Academic Athletic Support Staff, they are able to gain access to the tools they need to succeed beyond the playing field. As a result, the achievements and sacrifices made off the field will enable them to be mentally stronger during the game as well.
Looking towards the future: One of the program's long term goals is to have a student athlete academy in every middle and high school in the Bayview Area. The benefits of S-AA are numerous, especially during a time when students are developing study habits and understanding their ability to critically think. As a result of the program, there has been an increase in the amount of tutoring for student athletes as well as more resources for coaches to incentivize sports engagement through academic achievement. Thus, this program creates an environment where students can cultivate responsibility on and off the field and demonstrate what it means to be a student athlete. Because the AthLife Foundation is able to help fund schools, more staff can be hired to foster this academic growth. With more access to computers for MOOC engagement, electronic homework completion, and grade observation, students are more responsible for making the most out of their education. Because middle school is a crucial stage in a student's life, academic and leadership skills are instrumental to the development of the student on and off the field.
For More Information about S-AA from the program creators click here.